How Can I Make my Bathroom Look Like a Hotel?
Luxury hotels have gotten it right; they exhibit the most luxurious design and decor ideas to make their guests' experiences as relaxing as possible.
It makes sense; hotels are built on the ideas of luxury.
This type of luxurious experience is possible with a few, simple remodel ideas.
Go Colorful
The Taj Mahal Palace Hotel in Mumbai and the Burj al-Arab in Dubai have one thing in common; their bathrooms are both beautifully colorful.
Most bathrooms in the average home are white and plain, but who says that has to be the way? These luxury hotels prove that style and elegance come in color.
Paint the walls a startling yellow, or a bright, fresh green.
Explore colors that aren't typically found in bathrooms (that is, blue). Why not pair two colors together?
Regardless of how you choose to brighten up your bathroom, going colorful will create a beautiful, new look.

Alternatively, Stick to Neutral Colors
Maybe going bright isn't for you. That's okay; it isn't for everyone. Neutral colors, such as whites and creams, create a beautiful, classic bathroom look.
However, that doesn't mean your bathroom has to be boring, either. There are many tips below that you can use with this look to create a stunning, hotel-worthy bathroom.
Go For One Feature Wall
This is the perfect option if you want to make your bathroom pop, but you don't have the courage to go fully colorful.
Or perhaps you like neutral colors too, and can't decide. A feature wall is a perfect compromise.
Deciding on one feature color for your bathroom is a great way to tie the whole room together.
Why not go for something bold, like red? One red wall amidst a white bathroom will look stunning and professional.
Purchase everything else in that color, from the towels to the bath mat, and your bathroom will become a stylish, sophisticated space.
Put Two Patterns Together
If you're a bold person and want your bathroom to reflect that, then this remodel type is for you.
Maybe you're a fan of the herringbone, but you're also partial to something more linear. Why not go for both?
The Raffles Hotel in Singapore is no stranger to combining bold design choices.
Minimalism
It's no secret that minimalism is a popular design choice for any room in the house, not just the bathroom.
Those clean, sharp edges are simple but stunning. If you're someone who likes space, then this is the best design choice for you.
Minimalism makes introducing other materials into your bathroom effortless, too.
Stone and wood will look particularly effective against a minimal backdrop.
The Plaza keeps their bathrooms simple, but their golden mirror edges and taps create an elegant look.
Introduce Marble
The Ritz does this one with style and elegance.
Even if you're not ready to tear down all your walls and go full-marble, introducing this material into your bathroom is enough to give yourself a luxurious, hotel-worthy experience. Install a marble vanity, sink, or cupboard.
This design looks especially good if you have a bath.
Spotlights
A lot of hotels utilize spotlights as their choice of light. And why wouldn't they?
This type of tightening is sophisticated, professional, and goes with all the design choices in this list.
Spotlights are sure to create the perfect hotel experience.
Subway Tiles
Although the name subway tiles, induces thoughts of missing trains, rushing people, and the commute to work, these tiles create the perfect look for your bathroom.
Combine this look with some others above, such as the pop of color, or the feature wall, and you'll have a clean-looking, sophisticated bathroom that will amaze and impress your house guests.
Turn Your Shower Into a Wet Room
If you're someone who values space, then this – like minimalism – is the perfect remodel for you.
A wet room creates space and gives your bathroom a sophisticated look – even more so if your wet room is made out of glass; it will sparkle beautifully under the spotlights.
Floating Vanity
A floating vanity looks sophisticated, professional, and clean, and yet is the perfect way to add something special to your bathroom.
If you're looking to give your bathroom a little extra something, then a floating vanity is the perfect remodel choice.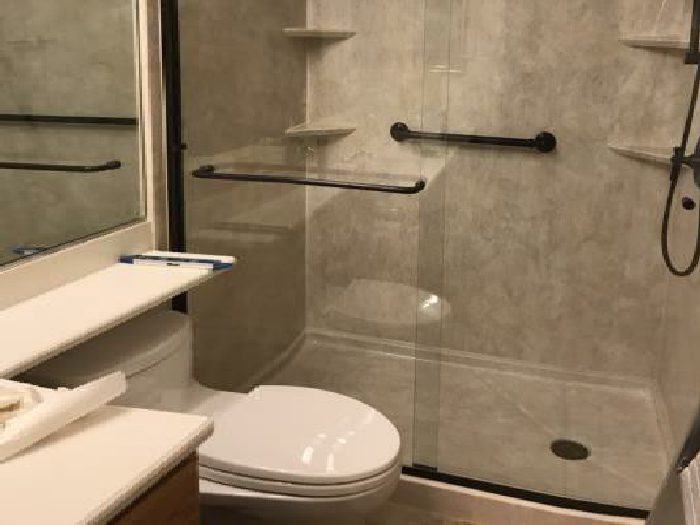 How Can I Make My Bathroom Look Classy?
The best hotels have a knack for creating perfect, classy bathrooms.
The most important thing to note is that they're all different, bringing together different design elements that suit the individual hotel.
This should be the same for you. Pick a bathroom that matches the rest of the house, or showcases your style.
Any of the remodel ideas above will help you create a classy, sophisticated bathroom.
In What Order Should You Remodel a Bathroom?
Remodeling your bathroom may sound like a headache, but it doesn't have to be.
Plan – First, you should plan exactly what you want to do, from the materials needed, to the color scheme. You'll need to work out the exact sizes. The last thing you'll want to do is purchase a new, sparkling sink just to find out it doesn't fit.
The Fixtures – If you're planning to replace your shower or tub, then you'll need to make sure you carry out the plumbing first.
The Design – After you've gotten all the technical bits out the way, you can work on the design. This is where you get to prime, paint, and tile. Install anything else, such as cabinets and wall-mounted towel racks.
Finishing Touches – Personalize your new, unique bathroom with extra flourishes, such as bath mats, rugs, and toothbrush holders.
Use our tips and tricks to remodel your bathroom; whether you're remodeling after The Ritz or The Plaza, you'll love your new luxurious bathroom.