Making Dream Bathrooms a Reality
Sale Ends Soon! 01-01-2024
holiday special
Schedule a FREE consultation
+ Zero Payments/Interest until 2025
Small Showers, Los Angeles
Are you tired of your cramped bathroom space? Do you dream of a bathroom that combines functionality with elegance?
Look no further than Payless Bath Makeover, the premier bathroom remodeler serving the greater Los Angeles, CA area. We specialize in transforming bathrooms into luxurious and efficient spaces, and our small showers are the perfect solution for maximizing your bathroom's potential.
Discover the Benefits of Small Showers
Space-Saving Design: Our small showers are specifically designed to fit in compact spaces without compromising on style or functionality. Say goodbye to a cluttered bathroom and hello to a more open and spacious environment.
Customizable Options: At Payless Bath Makeover, we believe in tailoring every aspect of your bathroom remodel to your unique preferences. With our small showers, you can choose from a wide range of customizable features, including showerheads, faucets, enclosures, and more.
Modern and Luxurious: Our small showers are meticulously crafted to exude modern elegance and luxury. From sleek and contemporary designs to timeless classics, we offer a variety of styles that will elevate the aesthetic appeal of your bathroom.
Enhanced Functionality: Despite their compact size, our small showers offer exceptional functionality. We incorporate innovative features such as built-in storage solutions, easy-to-clean materials, and water-saving technologies to make your shower experience convenient and eco-friendly.
Professional Installation: When you choose Payless Bath Makeover, you can trust that your small shower will be installed with the utmost care and precision. Our team of highly skilled and experienced professionals will ensure a seamless installation process, leaving you with a stunning new shower that will stand the test of time.
Why Choose Payless Bath Makeover?
When it comes to bathroom remodeling, Payless Bath Makeover is the name you can trust. Here's why clients consistently choose us for their small shower projects:
5-Star Rated: We take pride in our outstanding reputation for delivering top-quality workmanship and exceptional customer service. Our numerous 5-star reviews speak for themselves, reflecting our commitment to exceeding client expectations.
Fully Insured: Your peace of mind is our priority. Payless Bath Makeover is fully insured, ensuring that you are protected throughout the entire remodeling process.
Expert Consultation: Our dedicated team of bathroom design experts will work closely with you to understand your vision and provide personalized recommendations. We take the time to listen to your needs and preferences, ensuring that your small shower aligns perfectly with your desired aesthetic and functionality.
Quality Materials: We believe in using only the finest materials in our bathroom remodels. Our small showers are crafted using durable, long-lasting materials that are both visually appealing and resistant to wear and tear.
Timely Project Completion: We understand the importance of staying on schedule. With Payless Bath Makeover, you can expect prompt project completion without compromising on quality. We strive to minimize disruption to your daily routine, delivering your dream bathroom in a timely manner.
Transform your bathroom into a sanctuary of style and functionality with small showers from Payless Bath Makeover. Our commitment to excellence and attention to detail ensure that your remodeling experience will be nothing short of exceptional. Don't wait any longer – call Payless Bath Makeover at 888-389-9955 to schedule a consultation for your next project. Let us bring your bathroom dreams to life!
Other Bathroom Remodeling Services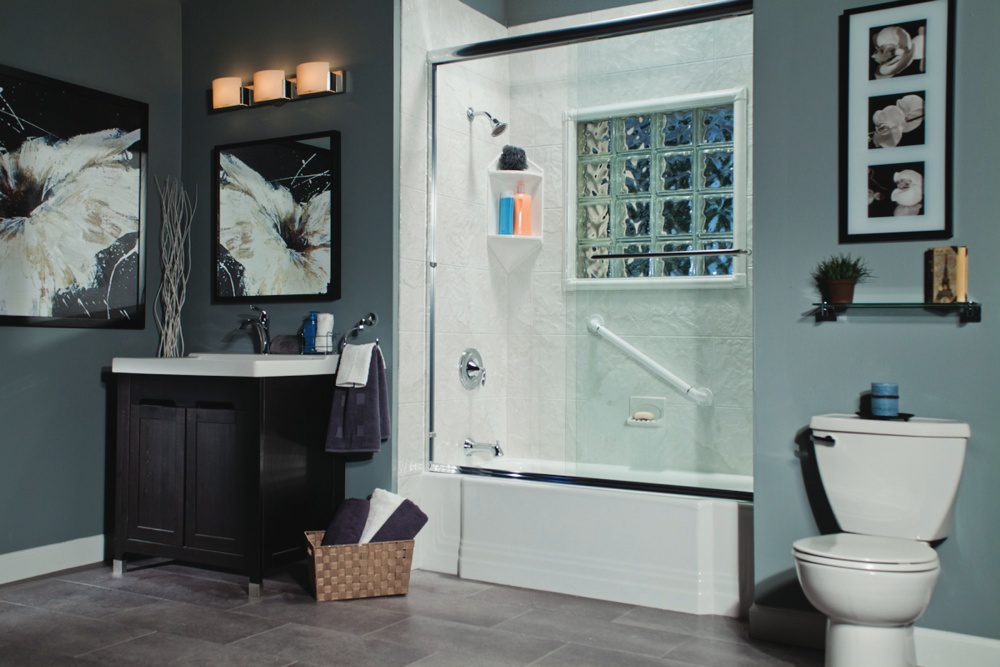 #1 BATHROOM REMODELER IN THE US
Bath Remodeling | Bathtubs | Showers | Walk-in Tubs | Payless Bath Makeover
★★★★★ Real Reviews From Happy Customers
Find out why we're
5-STAR Rated

Shower Installation

Shower installation was to my satisfaction. The best support for the hard work that was done came from Lynette, project coordinator, Fernando, installer, who was fantastic, and Arin, Brand, Ambassador who checked up on me to see how everything went.

Carol S.



Shower Remodel

Payless kitchens and baths did an immaculate job in remodeling the bathroom shower! My husband has bad knees and requires an upgrade from the shower/bath combo. We picked out what we wanted done and the fixtures and materials, colors we wanted to make it very assessable for him. Everyone was professional, on time, polite, and friendly. Within three days the work was completed!! I and my husband are extremely happy with the results! We recommend them 100%!! You won't be sorry!!!

Ethel M.



New Shower

I am so impressed by how fast payless bath remodeled my bathroom and installed my new shower. I love how professional their crew was and how efficient they were. 10/10 would highly recommend to all of my friends and family.

Bahrig B.



Bathroom Remodel

Payless did an amazing job on my bathroom remodel that exceeded my expectations. Everyone I came in contact with from the sales consultants, my project manager Yeran, to the installers and contractors were friendly, hardworking and responsive. The job was completed on time with no surprises or hidden costs. I will definitely be using them in the future for my next bathroom renovation.

Lilly C.



Shower Remodel

We're so happy that we chose to go with Payless Bath for our shower project. Starting from the salesperson David that came to our house and gave us a quote. He never pressured us instead he helped us with our options. The scheduler coordinator Lynette was so nice and patient over the phone with us when we tried to get our job done in a certain time. And to the amazing installers Roger & Sandra. Very professional. They're experts..After the demolition, they took time to explain and show us what was going to happen next, etc..even on the hottest 3 days this week they continued to work tirelessly and completed our shower in the way that we wanted. They even left everything cleaned ...

Pani L.


Our 3 Step Process Makes Bathroom Remodeling Easy!
Schedule Your Complimentary Consultation
Get started by giving us a call or submitting a form for a consultation on us!
Get a Top-Notch Design Consultation
We'll use a diagnostic tool called the design analysis to understand exactly what you want and need in your new space. We'll openly discuss all issues and share solutions that will fit within your budget.
Enjoy this experience from the comfort of your own home! We're here to help and share our experience and knowledge in remodeling small showers. This will be a no pressure conversation about your goals.
Sale Ends Soon! 01-01-2024
holiday special
Schedule a FREE consultation
+ Zero Payments/Interest until 2025