Glendale CA Shower Replacement
Making Dream Bathrooms a Reality
Sale Ends Soon! 01-01-2024
holiday special
Schedule a FREE consultation
+ Zero Payments/Interest until 2025
Glendale CA Shower Remodel & Shower Replacement
You might enjoy it if you expand your shower and bath for a cozier space, or perhaps look for a stylish new design or a combination of both! 
Our professionals in Glendale, CA have deep experience in each type of shower remodeling. 
We have thousands of combinations of fixtures, textures, glass, and tiles for you to select from. Your Glendale CA home shower will blend in precisely with what you have in mind, showing you a relaxing shower experience day in and day out!
Our company at Payless Bath Makeover just operates with the highest quality bath remodeling materials, guaranteed to be reliable for years to come. 
Your bathroom will be gorgeous, sturdily built, and easier to clean! Our mildew-resistant showers will be a joy to bathe in and will look great even without regular scrubbing.
Call us at 888-389-9955 for high-quality bathroom shower remodeling services!
Walk-In Showers in Glendale CA
At Payless Bath Makeover, our team is the best supplier of Glendale CA walk-in showers! 
Our shower options are expansive and modern, offering you the awesome convenience of a shower with the wonderful aesthetics of a custom glass enclosure. 
Let us come out with our design book to offer you project ideas. If you already have your perfect walk-in shower, let us know! 
Our company is sure to have the materials and the experience to make your walk-in shower dreams come true.
Custom Showers & Glendale CA Shower Enclosures
Whether you are looking for a premium custom shower, or a modern and affordable shower enclosure, we have your back at Payless Bath Makeover. 
Our shower replacement designers have a diverse collection of ingredients to select from to help your shower renovation project come alive. 
Plus, rely on our great shower installation pros to give you a quality shower enclosure that you will just love to talk about to guests!
One-Day Showers for Glendale CA
If you want a fast, budget-friendly bath project, you have hardly any more effective options than a one-day shower replacement upgrade! 
Our staff works confidently and installs acrylic shower liners in 1 day (or less!). You'll be amazed at the seamlessness of how your bathroom becomes reality with a fresh one-day shower installation.
Why Payless Bath Makeover for Glendale CA Replacement Showers
Our process starts with an informative, zero-cost consultation so we can fully understand your shower remodeling plan! 
Call us, as we would love to bring planning ideas for your Glendale CA replacement shower, a series of affordable price estimates!
Other Bathroom Remodeling Services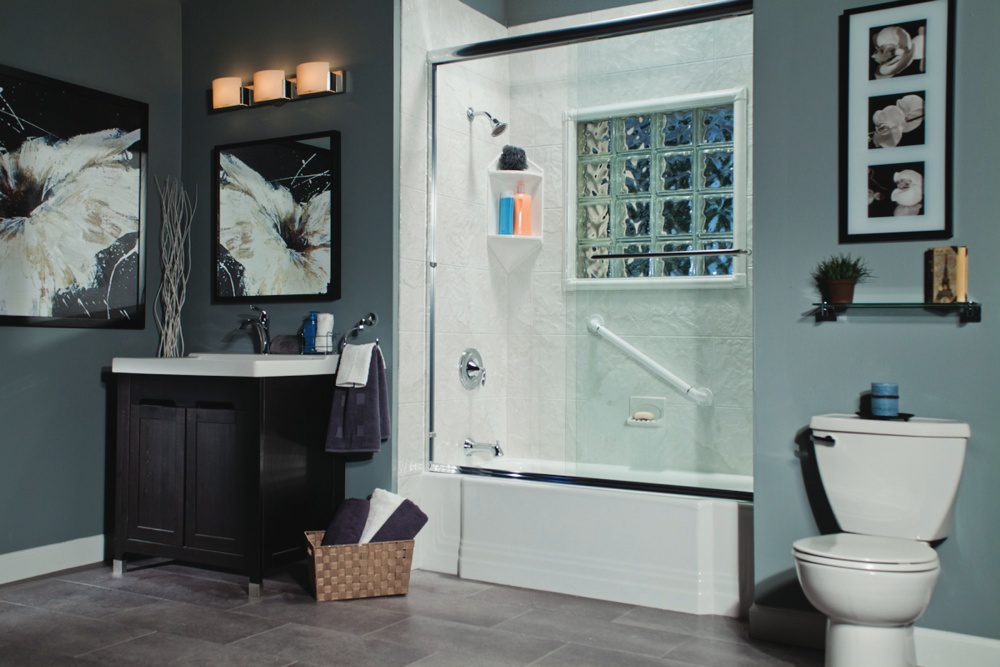 #1 BATHROOM REMODELER IN THE US
Bath Remodeling | Bathtubs | Showers | Walk-in Tubs | Payless Bath Makeover
★★★★★ Real Reviews From Happy Customers
Find out why we're
5-STAR Rated

Shower Installation

Shower installation was to my satisfaction. The best support for the hard work that was done came from Lynette, project coordinator, Fernando, installer, who was fantastic, and Arin, Brand, Ambassador who checked up on me to see how everything went.

Carol S.



Shower Remodel

Payless kitchens and baths did an immaculate job in remodeling the bathroom shower! My husband has bad knees and requires an upgrade from the shower/bath combo. We picked out what we wanted done and the fixtures and materials, colors we wanted to make it very assessable for him. Everyone was professional, on time, polite, and friendly. Within three days the work was completed!! I and my husband are extremely happy with the results! We recommend them 100%!! You won't be sorry!!!

Ethel M.



New Shower

I am so impressed by how fast payless bath remodeled my bathroom and installed my new shower. I love how professional their crew was and how efficient they were. 10/10 would highly recommend to all of my friends and family.

Bahrig B.



Bathroom Remodel

Payless did an amazing job on my bathroom remodel that exceeded my expectations. Everyone I came in contact with from the sales consultants, my project manager Yeran, to the installers and contractors were friendly, hardworking and responsive. The job was completed on time with no surprises or hidden costs. I will definitely be using them in the future for my next bathroom renovation.

Lilly C.



Shower Remodel

We're so happy that we chose to go with Payless Bath for our shower project. Starting from the salesperson David that came to our house and gave us a quote. He never pressured us instead he helped us with our options. The scheduler coordinator Lynette was so nice and patient over the phone with us when we tried to get our job done in a certain time. And to the amazing installers Roger & Sandra. Very professional. They're experts..After the demolition, they took time to explain and show us what was going to happen next, etc..even on the hottest 3 days this week they continued to work tirelessly and completed our shower in the way that we wanted. They even left everything cleaned ...

Pani L.


Our 3 Step Process Makes Bathroom Remodeling Easy!
Schedule Your Complimentary Consultation
Get started by giving us a call or submitting a form for a consultation on us!
Get a Top-Notch Design Consultation
We'll use a diagnostic tool called the design analysis to understand exactly what you want and need in your new space. We'll openly discuss all issues and share solutions that will fit within your budget.
Enjoy this experience from the comfort of your own home! We're here to help and share our experience and knowledge in remodeling small showers. This will be a no pressure conversation about your goals.
Sale Ends Soon! 01-01-2024
holiday special
Schedule a FREE consultation
+ Zero Payments/Interest until 2025