A minimalist bathroom style is sought after by many people. It's a great way of ensuring your bathroom looks pristine and as large as possible.
Some homes are designed with a small bathroom with only enough space for the essentials – toilet, sink, bathtub, or shower, plus some floor space to move around, while other bathrooms are much larger.
However, both types of bathrooms will benefit from having a minimalist design.
The bathroom is one of the most frequented rooms in your home and used by everyone who lives there.
If your family is big, the bathroom can easily become a chaotic and messy place.
Nobody wants to go into a bathroom that looks messy, so the best way forward is to discover how a minimalist bathroom can work for you.
Minimalist Bathrooms are More Common Than You Think
Many homes around the country are opting for minimalist bathrooms. If you like to keep the rest of your home in a minimalist and neat way, then the bathroom should be no different.
It can be hard to know where to start when planning and designing one, but below are some ideas to help get you started.
Decide on the Basics
The best minimalist bathrooms are ones that don't contain too many items or have these items on show.
A good way to get started is to think about the basic items you need to access in your minimalist bathroom storage.
A toothbrush, for example, is an essential item along with the toothpaste. Shaver's, shower gels, shampoos, lotions, creams, and other things like these are also needed.
The easiest way to conceal these items to make your bathroom minimalistic is to use 'clever storage' solutions.
Once you know the necessary items that you will need, you can then decide on the ideal storage. If there aren't a lot of items, then a mirrored wall cabinet may be all you need.
If there are more items, you may want storage below the sink, over the bath, or in one tall unit. There is a vast range of storage units available.
If you don't like your toothbrush stuck in a cupboard, you can use wall fixing to store these instead, and other items like hand soap can be wall-mounted, to make a more minimalist look and feel.
Choose Between a Shower or Bathtub
It's a personal choice whether you prefer a shower or a bath, some people like both.
If you don't mind either a bathtub or shower, you should then consider how big your bathroom is to make sure you design it as minimalist as possible.
For a minimalist small bathroom, these will be more spacious if you install a shower instead of a bathtub as you will create more floor space and openness.
The additional floor space could be used to build a storage unit; this will allow the bathroom to feel even more open instead of putting the storage around the sink and toilet area.
If you favor a bathtub over a shower, you have two options:
Option 1 – Install a freestanding bathtub. This will open the space up as no unnecessary paneling will need to be used around the bathtub, plus this will make it more of a minimalist design.
Option 2 – Add a bathtub that has storage surrounding it or above on the wall. This will free up space in another area of the bathroom and will keep items neat and tidy and hidden away. If you go for this option, you could install a visible storage compartment for towels to be located and seen. This will help to keep a neat and tidy bathroom, plus no need for a towel rail.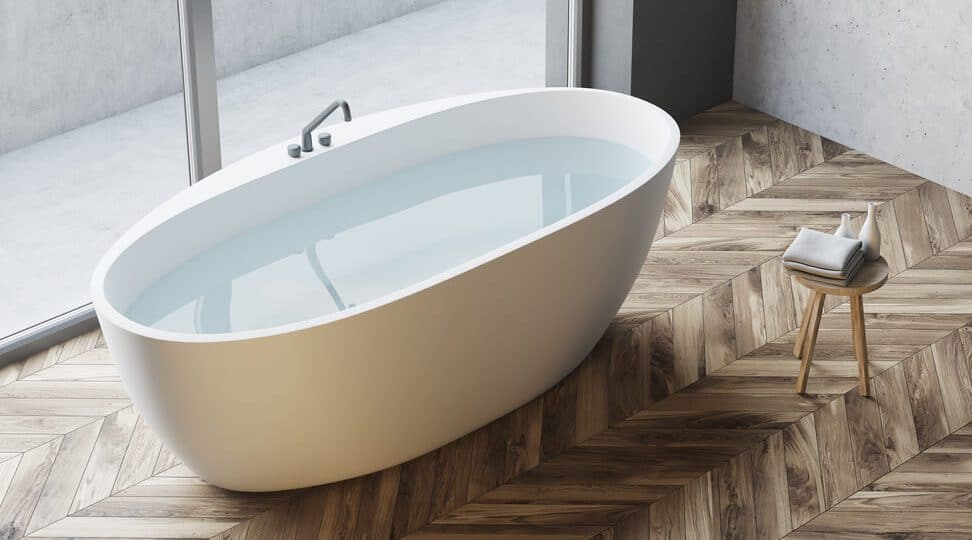 Toilet and Sink Design
Depending on where you are planning to put your storage, the toilet and sink styles can be adapted.
If the storage is going around the bath, you can choose a freestanding toilet and sink combination to enhance your minimalist bathrooms space.
Both of these items can be attached to a wall, and you can use a toilet that doesn't attach to the floor.
Although, if you need storage around these fixtures, you could choose to put a unit that incorporates both items to make a solid block style of the toilet and sink together.
The Color Scheme of Your Bathroom
The most effective way of designing a minimalist bathroom when it comes to color is to choose a neutral color.
This includes colors like light grey, white, beige, cream, and other neutral or earth tones.
While the walls and flooring are light, you can add darker storage units or inject an industrial style with items such as a sink made from steel or copper, plus use these types of materials for the lighting or mirror features.
Timber is another material that will work well with a neutral color scheme to create a minimalist bathroom style.
If you prefer a darker floor style, you could opt for white or cream tiles on the wall – or paint – and use a dark color for the floor tiles.
Large floor tiles can work wonders at making the bathroom look more spacious.
Not keen on your bathroom having light colors for the entire décor? Then you can use neutral for most of the space but add color to either a small wall or a small strip of space around the bathtub or shower.
Additional Accessories and Fixtures
The right minimalist bathroom accessories and fixtures need to be used to ensure your design and style is looking great.
Mirrors are a good way of making a bathroom look lighter and airy.
Choose either simple framed mirrors or chunky frames with dark colors to achieve a refined look.
Windows and natural light will help to make the space more open. If your bathroom has windows, use light-colored blinds and let the light in.
Copper or steel taps, rails, and other fixtures will add to the bathroom style and give it a modern and minimalistic appearance.
Feeling a Bit Overwhelmed? Start with a Minimalist Shower
Redoing an entire bathroom can be a bit daunting. If you're a bit apprehensive, you can start with a minimalist shower.
Need help with bathroom remodeling? Our team at Payless Bath Makeover can help you out.
Let us turn your bathroom dream come true with our bath wall surrounds and a new shower remodel.